Historic places can feel invincible. Kilmer Mansion has been a part of Binghamton for your entire life. And it's easy to believe that it always will be. In truth, something this old and precious needs its guardians. Its patrons. And its champions to ensure its preservation across generations.
We are simply the latest stewards of the Mansion
This community should be proud of its stewardship to date. The Mansion stands tall with many parts of it still pristine. And it also needs all of us. You might have noticed everything from cranes to craftspeople working hard to restore and preserve this historic treasure for you and for generations to come.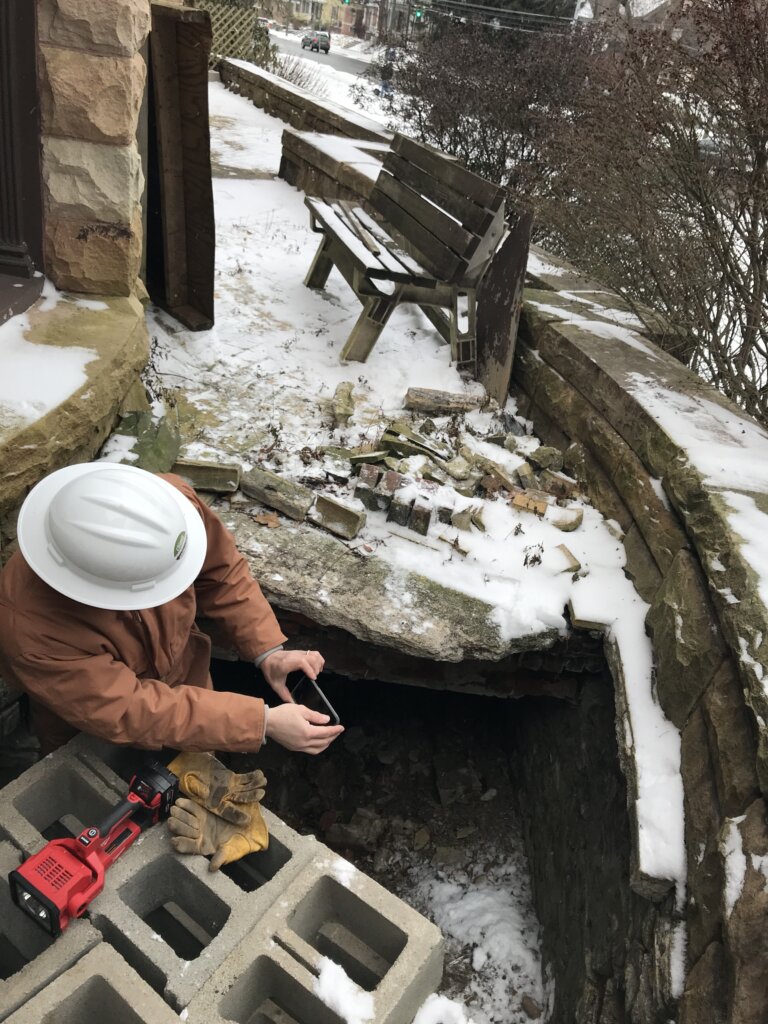 Saving Kilmer Mansion
The main structure of the Mansion is safe and sound. But rusting beams, crumbling mortar, and loose stones forced the closure of the once lovely terraces and porches. The chimneys are also in danger of collapse and have been secured with special straps.
Thanks to the generosity of many kind people from near and far, work has begun to save these precious parts of the Mansion. The east chimney has been fully restored and is standing proud once again. The south terrace has a new deck supported by strong steel. The stones have been secured with new mortar. Guests can now move safely and easily between the grand parlor and the gorgeous gardens.
But the work is far from done. The two central chimneys are waiting for the same care as the east chimney. The north terrace and east and west porches wait as well, closed off and in danger of falling down at any time. The good news? You can be part of saving them with your generous gift today!
Interior Renovations
Many of the Mansion's rooms have been given a face lift in the last year.
On the first floor, the kitchen provides a clean, bright prep space for caterers. The refinished original hardwood floors gleam. New paint shows off the built-in cabinets. And crisp curtains frame the large, light-filled windows.
The former family sitting room on the second floor has been transformed into a beautiful bridal suite. And the nearby powder room has been freshly painted and decorated. Together, these rooms make a lovely place for a bride, or anyone celebrating their special day, to get ready.
The third floor boasts shining hardwood floors in the hallway and two rooms. One room houses a Kilmer family history display. And the other hosts a special collection of dolls and dollhouses.